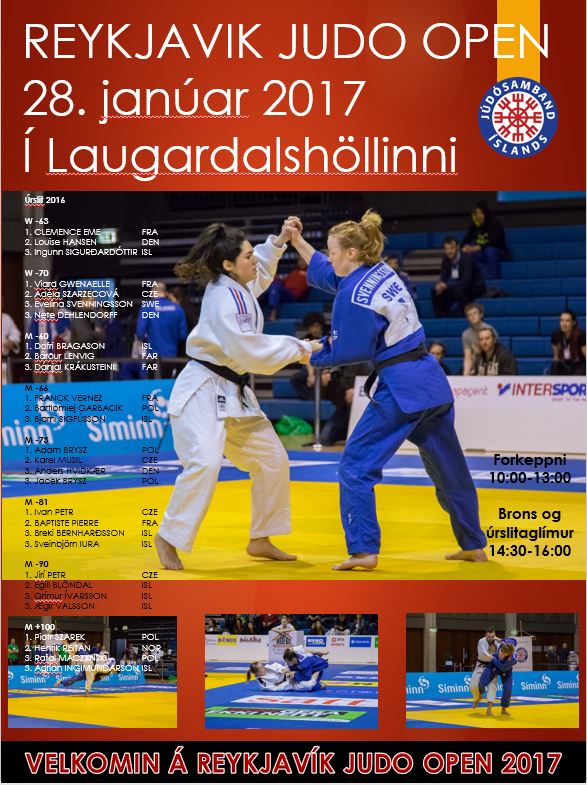 Reykjavik JUDO OPEN 2017_Outlines
ENTRY FORM RIG 2017
Reykjavik Judo Open 28th of January 2016 at RIG
Competition venue Laugardalshöll, Engjavegi 6, 104 Reykjavík, about 700 meters from official hotel, Grand Hotel.
Participation age Born 2002 and before.
Competition system
Double repechage or pool competition system.
2 entries, better of 2 fights, if 1-1 the third match will decide
3-5 entries single pool, 6-7 entries, double pool
8 and more entries, repechage competition system
Blue and white judogis is required.
Every competitor must have an international insurance for injures. No insurance is provided by the organizers.
Entry: Before 15th of January 2016 and no entry fee.
Entry form  should be sent to  jsi@judo.is
Competition program
Friday day 27th of January
15.00-18:00      Accreditation, Grand Hotel
15.00-18:00      Official scales available for unofficial weight control at Grand Hotel
18.00-18:30      Official Weight-in, Grand Hotel
Saturday 28th of January
10:00 All weight categories, men and women
Preliminaries/Repechage
14:30 Final blocks
Accommodation during competition
The official hotel is Grand Hotel Reykjavik, Sigtún 38, 105 Reykjavík, Phone +354 514 8000

Find flightto Iceland atDohop.com
Organizer
Judo Federation of Iceland,
Phone: +354 6628055
Email: jsi@judo.is
RIG Plakat 2017 EN         RIG Plakat 2017 ISL